Some of you may remember the history of the "yet to be named Zion", and all the times my medium frame steel wonder bailed me out of a tight spot throughout 2008.
Remember when I had some work done on it...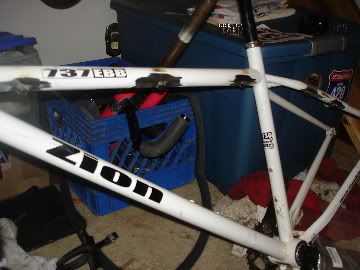 by this guy...
which had me doing a quick and not very permanent at all rattle-can panel panel paint job...
that turned out looking like this?
Well, I finally got a chance to take it out to
Drake Powder Coatings
in Monroe, NC to give it the make over a good friend deserves.
Tom Drake is always super easy to deal with and best of all he's cheap. $55 for a frame and $15 for a fork... and that's not the
"Hey, I'm Team Dicky, international cycling star, and I think you should hook it up"
price. That's what anybody pays for the service.
If you use him I highly suggest you plug any hole you don't want powder to go into with some bolts you never expect to use again, and you should be very specific about where you don't want the powder to go. It's not exactly perfect, but it's as perfect as I'd want for a durable $55 powder coat.
Now why go to all the trouble of paying someone to powder coat my old $249 frame when I have a perfectly good
MOOTS
in the house? First of all my shitty rattle can job was starting to show rust around all the braze-on work Cheech did, so I didn't want the frame to go to crap for lack of maintenance. Secondly I promised myself I would never take my Zion frame for granted again after all they've done for me. This is the second one I've bought, and I've raced a Zion at
BC Bike Race
and a bunch of other races including
my 2007 win at ORAMM
. It's too fine of a frame to just let go to waste.
Why build it up? This year I'll be going to Colorado at least
once
or
twice
this year. I might just ship my MOOTS out west to save some money, but in doing so I will be MOOTSfree for a weekend on both sides of my trip. As much as I love my Meatplow I'm gonna wanna ride something in the meantime, and if memory serves me well this frame does a great job of keeping the wheels 43" apart and me on top.
And now for some snake oil sales...
Thad
beat me to the punch
, but I've been meaning to mention these things since
Dirt, Sweat, and Gears
. Maybe if I had been slightly less thorough in my five day description of the events that took place in Fayetteville, TN I would have gotten around to it earlier, but I digress.
Even though I have no idea when they will be available to the general public (they were selling the first batch at DSG) I present to you (who didn't bother coming to DSG) the Swiftwick...errr.... ummm... wrist thing.
On the left wrist is the prototype four inch and on the right wrist I'm sporting the slightly tighter, logo enhanced three inch version. What's so great about a wrist... errrrr... ummm.. thing? If you look hard enough through all the pictures of me riding over the last coupla years you'd see an occasional photo of me sporting my
"FREE SAGER" wrist bands
, even long after SAGER had been FREE'd. I liked having a bit of compression around my most abused joint, and to be honest on slightly chilly days it felt good to add a little warmth to bony part of my body that keeps my hand connected to the rest of my body.
You know I've complained about my wrists before. Last year's Month of Mayhem put a hurting on me, so much so that I bought the Fox Fjork you see mounted on that Zion in the pictures above. Most, if not all, of my wrist pain has subsided (thanks to a six pronged attack on the problem), and I'm happy to say I'm back to riding rigid in the happiest of manners. Back during the Month of Mayhem I was filling
Swiftwick
gRant's ears with a request to make a compression wrist... errrr... ummm thing to address my issues. I could tape my wrists before a ride, but tape has its limitations. Tape can fall off when it gets sweaty, or it can become too restrictive over the course of a long race. It can also fall off and pollute the wilderness endangering raccoons who might use it to fullfill their dark auto-erotic asphyxia desires. I wanted an
Olefin
wrist... errr... umm thing that would give me a little support and compression where I needed it, and I wanted it "now" ("now" being then, not the now that is now).
So nine months later "now" is now, and I got 'em. I've used them at PMBAR, DSG, on chilly morning commutes, and on one local ride so far, and I would say they perform at least as well (and maybe better, but only because I'm such a pessimist) than I expected. I'm sure once everybody gets done reading this and Swiftwick is inundated with requests (
here
or call them at (800)895-5858 (US only) or (866)813-4165 (local and international) and say
"Dicky sent me"
) they will have to ramp up production in order to fill the overwhelming demand.
Whether you are a rigid single speeder looking for some relief, or a candy-ass who rides with suspension and your wrists still hurt (like me over the winter), or you just wanna start a new dance trend sensation with an ironic fashionable throwback to a time when shirts were short and sleeveless and wrist.. errr... ummm... things had studs these were made for you (unless you want studs, in which case I strongly suggest you call Swiftwick and demand studded wrist... errr... ummm... things).
Even though I stand behind this product and give myself more credit for their existence than I deserve I still have to give them my...
Seal of Semi-Approval

Why only semi-approval?
Mainly because although they have yet to have a name this product I think the obvious name is the Swiftwick Swift Dick, and their lack of enthusiasm for naming them thusly has caused me to be less than impressed.
If you need me I'll be sitting next to my mailbox waiting for my first royalty check.