I was so anxious to get to the staged interview with Mike Piazz... I mean Karen Brooks (but according to my comments definitely not the REAL Karen Brooks) that I skipped over another timely topic I wanted to cover. Over the weekend Enel sent me a link to
a youtube video
of the SSWC09 that was also posted on the
SSWC09 website
. He told me to watch it closely around the 1:00 minute mark. I did, and there I was.
Before yesterday ended many more people brought this to my attention including
Mandy
,
Shanna
, and of course,
Pete-unh
. Of course Pete-unh took great pleasure in devoting almost
half a post
(the slightly intelligible half) to the video which portrays me in one of my weakest cycling moments ever, but obviously he takes great pleasure in the fact that in my weakest moment he was able to capitalize on my unfortunate situation and finish ahead of me for the first (and last) time. He also scooped me on the acknowledging of the presence of the video, but that will not be considered beating me in any fashion as blog performance counts for nothing. FYI: My SSWC09 race report is
here
for anybody that didn't catch it the first time around.
What I think is interesting is that this video captures the only time I ever just up and sat down in the middle of a race that was less than 24 hours long. Of course I'm not including the 2008 Cohutta 100 I did on a fixed gear the week after my dad died where I sat down and enjoyed a cold 16oz Icehouse with a gracious anonymous host in the middle of the woods. That was an anomaly, a cathartic experience wrapped up in the guise of a race that I will never forget, but I hardly sat down due to physical weakness. I needed an emotional release, the kind that comes in an aluminum can, and it was the right thing to do at the time, and it will always be the right thing to do if you find yourself in a similar situation.
Yes, I sat down in the middle of a short 25 mile race. Why? Well, I had wasted myself physically and mentally over the previous three days. My Durango rampage made Sherman's March to the Sea seem quite tame in comparison. I applied my "Scorched Dick" policy at will, and on Saturday morning it all caught up to me in spades. I found myself with one swallow of water left with almost half the course to go, so I decided I would sit down and savor the moment. I found a nice open spot with an extensive view of the course, and I took a break. Not so much a break from the race, but a break from a life being lived just a bit too fast. And lucky me it was captured on film for the world to see. Such is my life.
Stay tuned. Maybe tomorrow I'll have long term foster chihuahua Wally interview me as Bicycling Deputy Test Director
Mike Cushionbury
.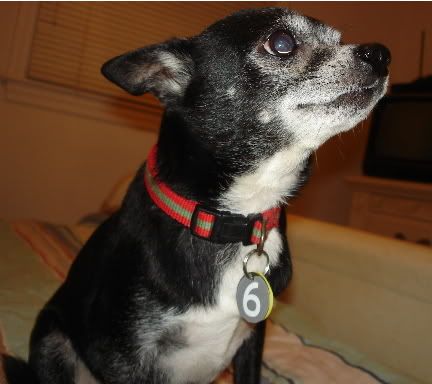 MC: So Dick, do you think that riding around on all those pink parts might suggest that you live an alternative lifestyle? If so, what are you doing Friday night?