Not supposed to post today due to posting yesterday on the day I was not supposed to post at all, but this is big.
I'm a bit worried, since I'm not sure if Le FedEx knows where I live. Le package is at le facility d'locale, so moi fingeres are crossed. My French is a bit rusty, but this is the part that makes me nervous:
"Les retards liés aux opérations de dédouanement n'entrent pas dans notre garantie de remboursement."
Hmmmm...
Hopefully this shows up today...
to be built tonight...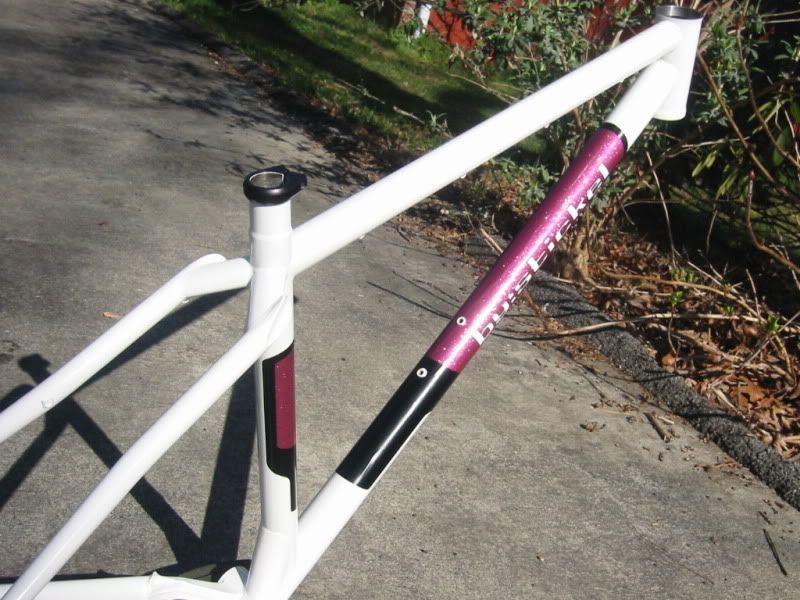 and tested in the mountains of NC this weekend.
It's a good thing, too. My parts staging area is overrun at the moment, what with two builds in the queue.
Admiral Ackbar, Sponsor Liaison and Equipment Acquisitions Director, has done a great job, even if if waited until the last minute to ship out the cassette spacers and lockring for some pink anodizing and didn't remember to tell
Industry Nine
that we needed pink 100mm QR endcaps for the front wheel. Doh.
In the meantime, parts have been going on the
Dark Horse
(AKA Fire Mare) as they arrive.
I secretly wish I worked in a bike shop... building my own bikes all day long,
eight hours a week,
at $100 an hour.
That's all for now. I gotta go hop on this deal for a sleeveless padded chest superhero jersey before they run out.